There are a number of factors that need to be taken into account after a relationship breakdown in determining a fair asset division between you and your former spouse or partner. Divorce or the finalisation of a de facto relationship generally brings the need for the division of property in a manner that enables both you and your former spouse or partner to move on without the need for ongoing involvement. This means that a singular property settlement is the preferred outcome within the Australian family law system
How long do you have?
Unless exceptional circumstances apply, property divisions must be finalised within 12 months of divorce for married couples and within 24 months of final separation for de facto couples.
The factors considered
The factors that are taken into consideration when determining a just and equitable property division include:
The length of the relationship.
The age and health of the parties.
The financial contributions by the parties to growing the total value of their assets.
The non-financial contributions by the parties to growing the total value of their assets.
The contribution made by the parties to the caring for and well-being of the family.
The extent to which either party contributed to the earning capacity, income or financial resources of the other party.
The reasonable needs of the parties in maintaining their standards of living and in supporting themselves, their children and any other person that is reliant upon them for support.
The care arrangements of any children of the relationship that are under the age of 18.
Any child support payments that a party is or will be legally required to make.
The income, assets and access to finances of both parties, present and future, as well as any limitations on their ability to earn an adequate income.
How the property division will effect the parties future earning capacity and the extent to which the agreement will enable either party to acquire sufficient skills or knowledge to assist them to become self-sufficient.
Any legally binding maintenance agreement for either party.
Any legally binding financial arrangements in place between the parties.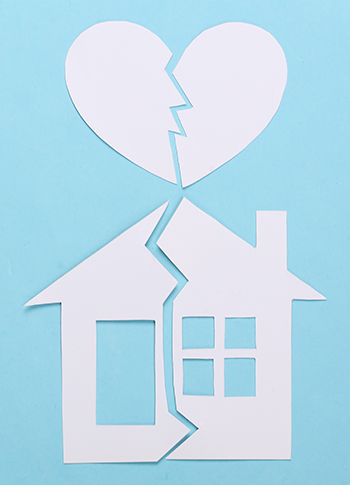 Going to court
If you cannot come to an agreement with your former spouse or partner and you want to have a court decide how your property should be divided, you are generally required to attend alternate dispute resolution in an attempt to come to an agreement before asking a court to decide.
Debts and bankruptcy
Different rules and considerations apply if either you or your former spouse or partner is a bankrupt or where a creditor may have an interest in your assets. You should discuss this with us if you have concerns about how this may affect your property division.
Next steps
Division of property after your relationship breakdown is one of the most important processes you will go through in your life. The legally binding finalisation of both the assets and debts from your relationship can provide you with a clear road ahead and a future of freedom and opportunity. Likewise, ignoring this process could leave you with years, perhaps decades, of burden. Irrespective of your current relationship with your former spouse or partner, we urge you to not take this process lightly. How you feel today is likely to be very different to how you will feel in five or ten years' time. Please contact us to discuss your situation. You are not bound by a particular course but, armed with knowledge and options, we can help you make the best decision for your future.